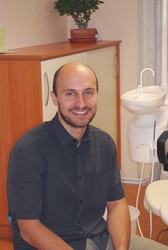 MUDr. Suchy was born in the western part of Czech Republic. He is a second generation orthodontist and wished to be an orthodontist since his teens. He graduated at 1st medical faculty of Charles University in 2003.
After that he worked as general dentist in private practise in the centre of Prague for two years.Between 2005 -2008 he studied and worked at the orthodontic department of the 1st medical faculty. He gained his rigorous additional study and examination required to become certified as a specialist in orthodontics.
He is member of European Orthodontic Society, Czech Dental Chamber and Czech Orthodontic Society. Dr. Suchy is a firm believer in modern innovative orthodontics. He is continually researching state-of-the-art orthodontic advancements and he has completed many courses to specialize in modern techniques. Dr. Suchy enjoys white water slalom and takes part in racing in this discipline. He enjoys sport, family and life.